True confession.
You want your blog post to go viral.
So, you do everything to ensure your blog post has:
An attractive topic
Captivating hook
A body that addresses a key consumer challenge
Powerful storyline
But all to no avail! The number of views is nothing to write home about.
What's left then?
After all, you've done everything you know in the books.
Sooner or later, a ton of questions will begin to pop in your head. And you'll start questioning your capacity.
Your reaction is understandable. But have you thought for a second that you may still be missing one or two KEY ingredients?
Yeah right! You heard me.
Here's what you should know!
The key ingredients you're probably missing can give you 10X more chance of going viral.
So, what are these key ingredients?
They are the TWO Ds. ( 😀 )
The first one is:
Distribution—the First Key Ingredient You're Probably Missing
That's right!
Your blog is NOT going viral because you're probably missing the distribution part.
When I say "distribution," what do I mean?
Distribution, in blogging, refers to your ability to bring your captivating blog post in front of a large audience.
Before we move further, you should know this;
Going viral doesn't necessarily mean you're getting millions of views. It simply means your post gets lots of shares and more traction than the average blog post on your website.
So, back to distribution. Why is it an essential factor for going viral?
The answer is simple!
The more audience that views your post, the more likely either of these two things happens:
A highly influential person may see it, love it, and share the post with their followers.
You'll get to the "tipping point" where your share counts start to go through the roof.
Now, I'll be taking you through the seven things that will make your blog post go viral.
After which I'll be talking about the second and last "D" factor, to crown it all.
So, stick around.
But if you're lazy (like me sometimes) to cover everything step-by-step, jump straight to the next "D" section.
The 7 Things That Can Make Your Amazing Blog Post Go Viral
In no particular order, here are the seven tips that can take your killer blog post from zero to hero:
1. Make Good Use of Infographics
Infographics?
I know they seem scary and expensive to produce.
But in reality, they are not.
You can get one for as low as $5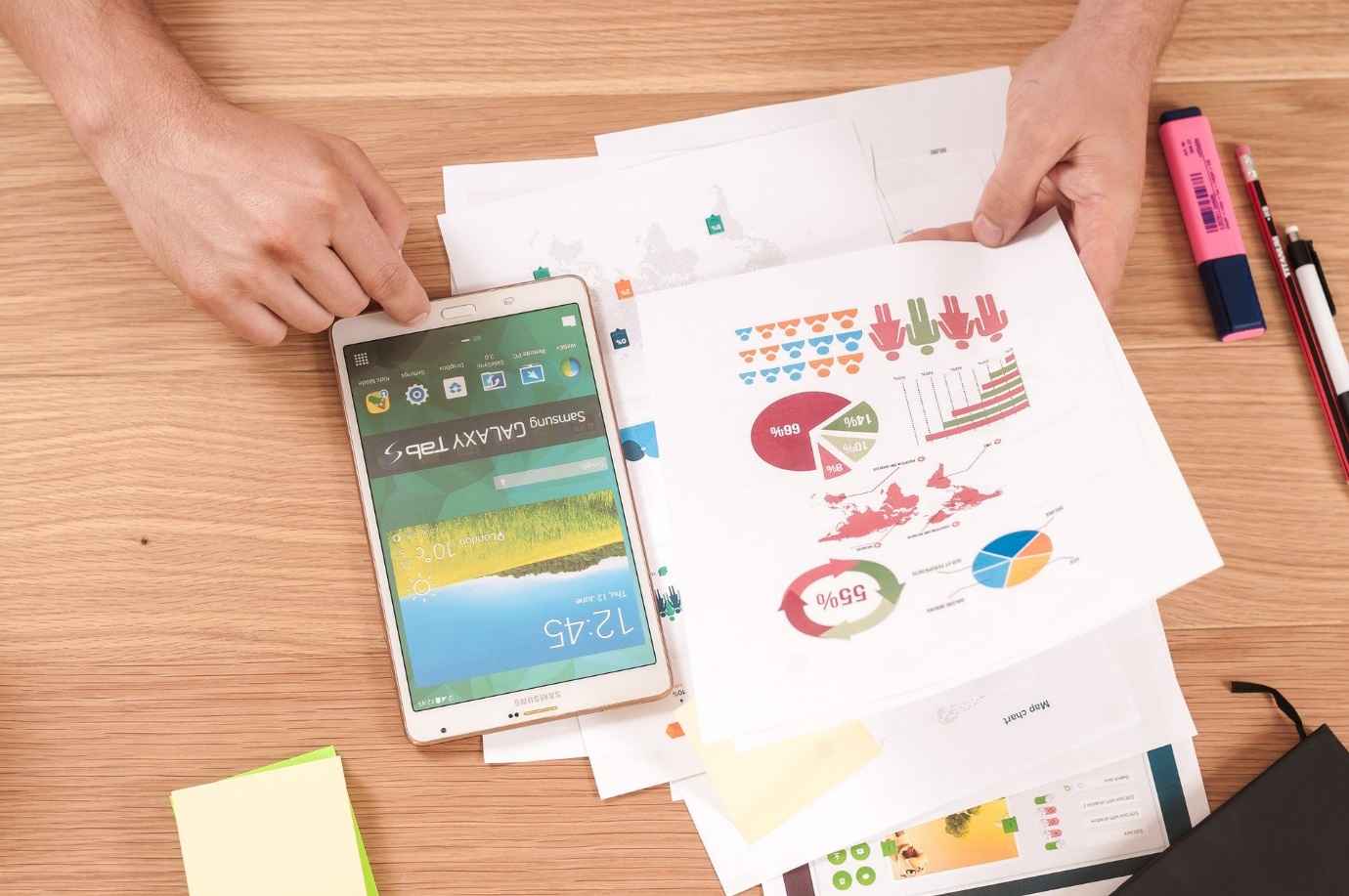 The whole idea of using infographics is to summarize the main points from your long and detailed post.
In other words, it's a gateway for sharing a visually appealing post to a large number of people within a short period.
It doesn't end there.
The shares can yield fantastic results, like driving people to your blog for more detailed information. So, it's ideal ALWAYS to include the URL of your post on the infographic image.
You can get infographics for as low as $5 on Fiverr, but if you have money to invest, I highly recommend going for a high-quality design gig
Do you share your blog post once on social media?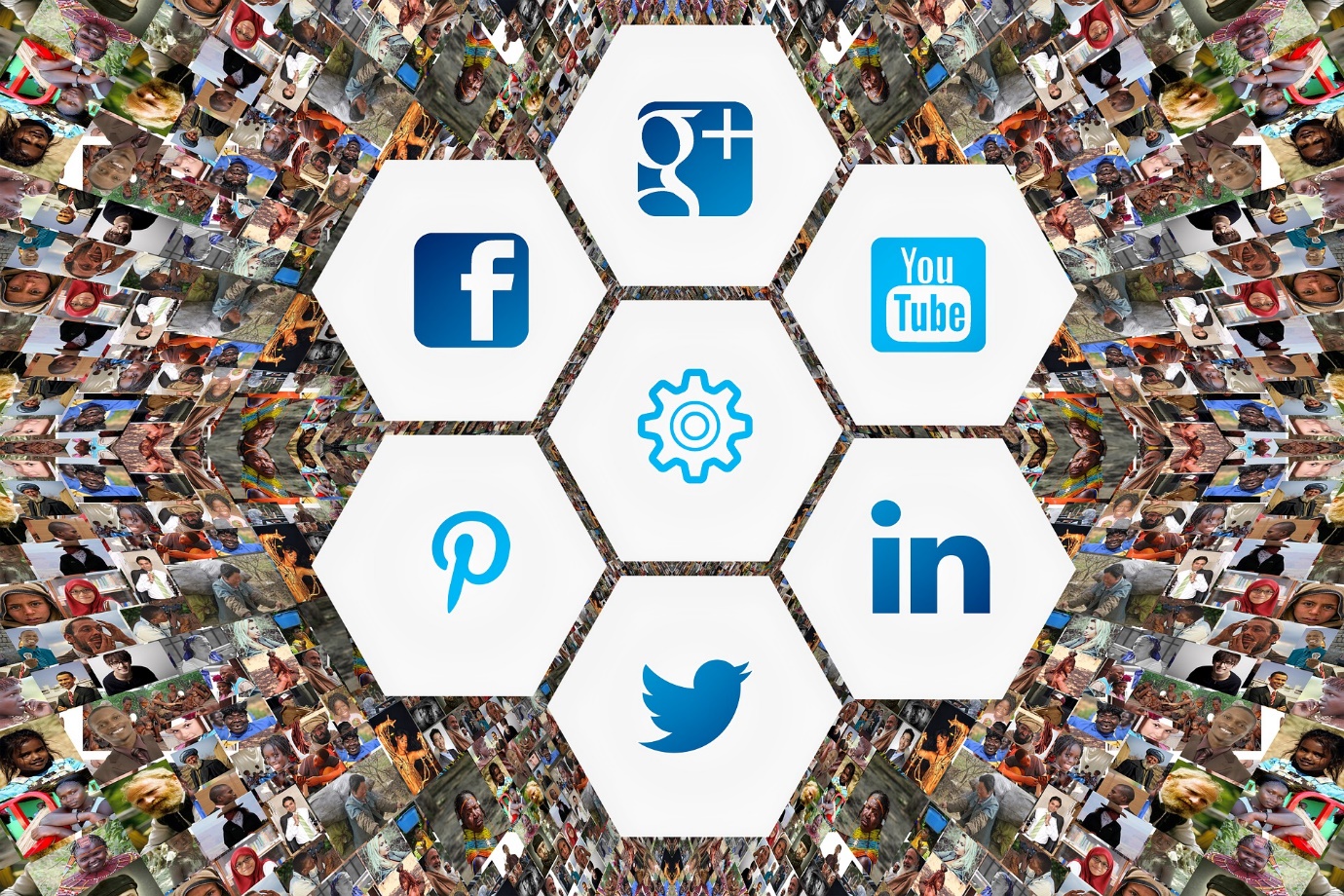 If your answer is yes, then I guess it's because you assume you'd be bombarding your followers if you overdo it.
That's a solid point.
But there's a problem with that approach.
If you're bent on sharing your post once on social media, you have to get the timing right.
Or else, it will fade into oblivion, and no one will see it.
So, what do you do?
Share the same post several times. That way, it gives your followers a chance to engage with your post if they couldn't do that initially.
The trick here is to post several times with different headlines and hooks.
This method also helps you to know what works best for driving traffic.
A good example is Brian Clark's Copyblogger post. The post was shared eight times in the course of three days on Copyblogger's Twitter account—with different headlines and hooks.
The first time it was tweeted, the result wasn't overwhelming—"three retweets and one like."
When it was shared eight times, the result took a huge leap—44 retweets.
From the look of things, you can tell that the difference in retweets put the post in front of thousands.
A SlideShare presentation is similar to the infographics I mentioned earlier—since it helps you summarize your post.
The major difference is:
The presentation appears on slides.
With this, you can get a ton of views and significant traffic back to your site.
While you're at it, avoid giving away the entire post in the presentation.
Why?
People will have no reason to click through to your website when you put out the full information.
Instead, create a visually appealing PowerPoint presentation.
Then, place essential points from your post. Include a link back to the full post. And upload it to SlideShare.
4. Get Pinners Excited With Attractive Images in Your Post
Using Pinterest can make your post go viral. But the photos in your post have to excite pinners to share endlessly.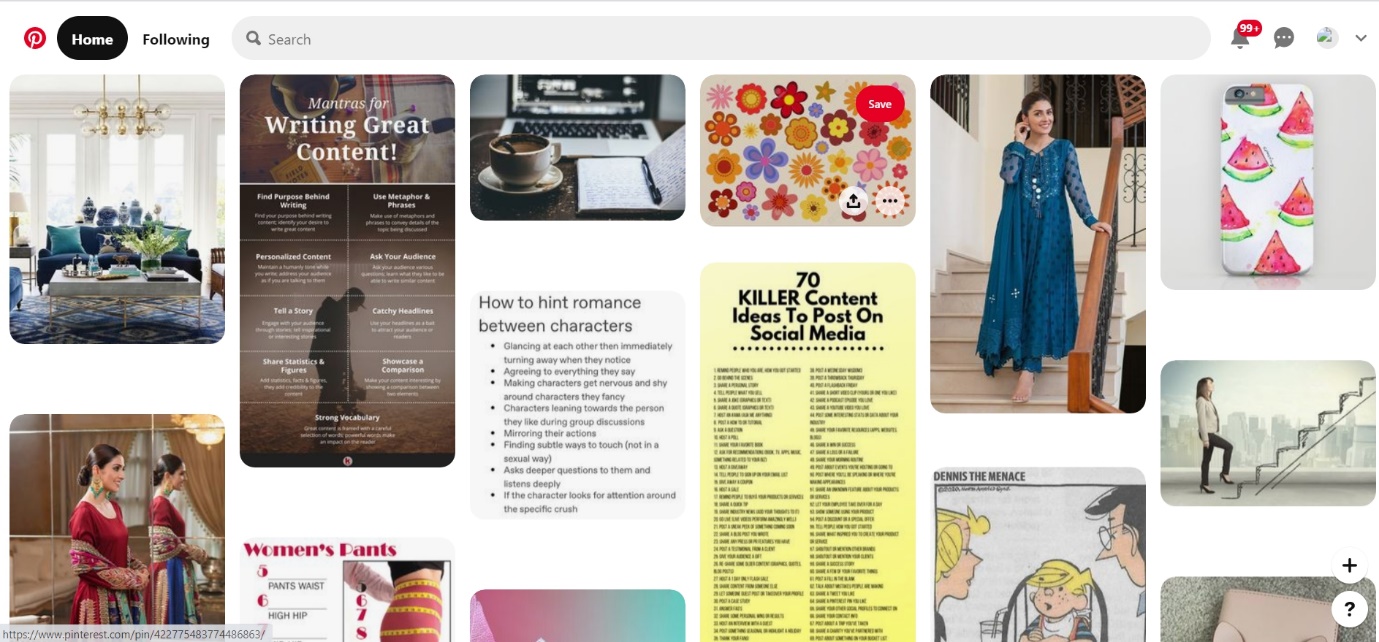 That way, you can be sure of getting heaps of traffic.
This approach is ideal if you don't buy the infographic method.
All you need to do is open Canva and create an image that is taller than the width.
Afterward, embed them in your post. Remember, you don't have to be super fancy about it.
5. Consider Reposting on LinkedIn and Medium
The fear of Google is the beginning of wisdom—when it comes to ranking.
Believe me when I say I understand your fear of duplicating your content.
After all, no one wants Google's penalty.
The good news:
It's safe to repost on LinkedIn and Medium after your blog post has been indexed.
The only condition is that your name should be attached to the content you share.
If your post reaches the right audience on Medium, you could get picked by one of their publications.
On the other hand, LinkedIn features you in one of their pulse categories or the front page of their site.
Do you belong to a social media community or group? If you're, leverage them.
There are ideal places to share your post. But you have to tread with caution—so you don't appear spammy.
There are two rules to this approach: share ONLY genuinely useful content and don't go against the guidelines of the group.
You can even take the initiative by asking for ideas and thoughts around a topic from fellow group members.
That way, you'd be creating a genuine interest in your post in the groups. And it will be easier to share your post.
7. Reach Out to Influential People
By now, you should know that making your fantastic blog go viral goes beyond getting average or little traction.
Let's look at it this way: you published a post in the digital marketing niche.
And it gets a few shares when it went live—but you want more.
So, what do you do to get more shares?
Share your fantastic blog post in a forum with influencers or on social media and mention them. Then, they take an interest in your post and share it on their social media page (with tons of followers).
What do you think will happen to your post?
Oh yeah! You guessed right.
Your content will be widely shared where it's useful.
And there goes the viral content you asked for.
Now, you know how to make your post go viral.
What next?
Let's look at the second "D," which is "Disruption."
Disruption—the Next Ingredient Missing in Your Sauce
I've got BAD and GOOD news for you!
First, the bad news:
That content you call awesome MAY NOT be all that—like you think.
I know this sounds crazy. But hang in there with me, I'm getting somewhere.
So, you might be saying to yourself…
"What exactly is he saying?"
"I mean, I put so much work into my blog post—researching and using the Skyscraper Technique." "It has worked for a ton of people, and I believe it should work for me."
You see, that's where the problem lies.
No offense to Brian Dean (the brain behind the skyscraper technique)—but there's something you need to know.
The technique doesn't WORK as such if you want to go viral. Maybe it did in the past, but not in today's competitive markets.
Why?
Simple!
It restricts you ONLY to recycling old content—which isn't a bad idea!
But that's not what today's online readers are looking for. They need out-of-the-box articles that will not only WOW them but make them share with their family and friends.
Think about it:
The powerhouse behind every viral post is the controversial substance behind it.
And this is where DISRUPTION is born.
For instance, I earlier mentioned how the Skyscraper Technique—popularized by Brian Dean is no longer working. Now, that's disruptive.
So, If I decide to dedicate a whole post to writing something like "Why the Skyscraper Technique will fail you."
It will most likely get a ton of views because it's disruptive and conversational.
However, before you go down the "disruption" path, ensure you're making a strong point. Or else, you'd be bidding most of your readers farewell.
To give you a clearer picture of what I'm talking about:
Here are a few case studies of blog posts that once went viral—using the disruption technique.
Viral Post 1 – the Content Is King Myth: Debunked – by Derek Halpern of Social Triggers
This particular article was one of the most popular posts written by Derek.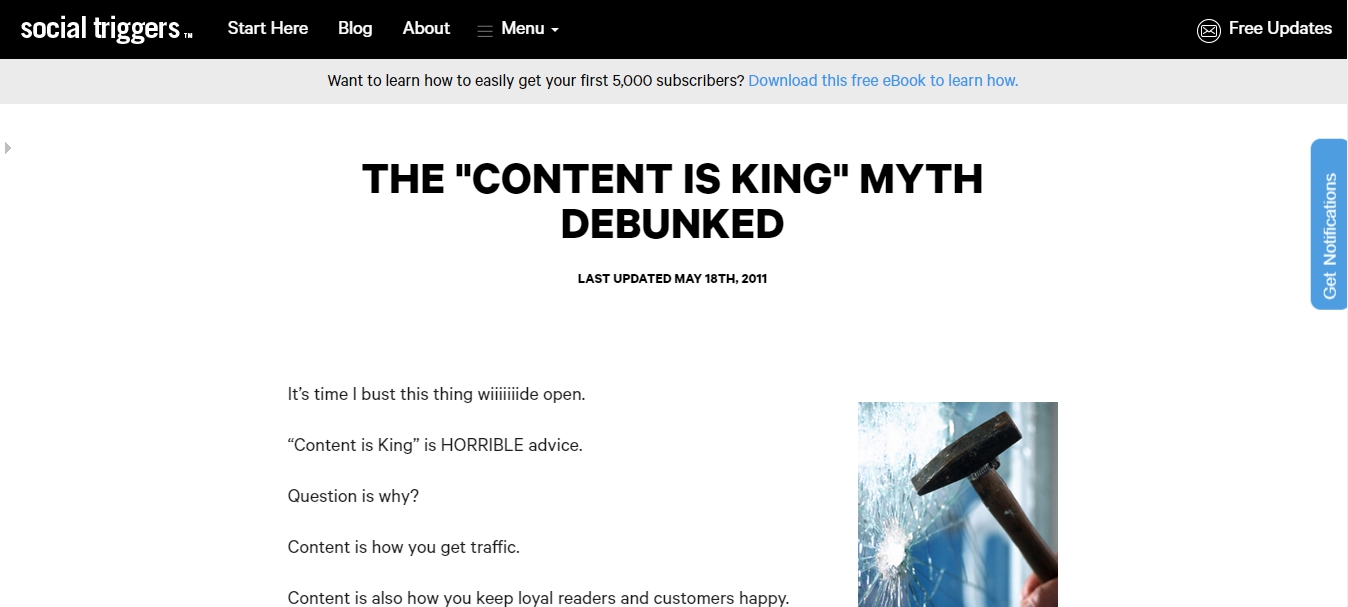 The post has gotten thousands of social shares. Plus, it contains a ton of lessons for every blogger that wants to succeed.

At the time Derek published the blog post, "content is king," it had one of the biggest buzzes in the digital marketing space.
So, cleverly, he decided to write a post that sponged onto a topic that was already trending.
What can we learn from Derek?
He Set the Cats Among the Pigeons
Derek intentionally leveraged a hot topic and took his controversial stance.
But his post didn't attempt to get a contrarian view in a shallow way.
Instead, the post snatched the spotlight by citing academic research to prove his point:
According to the post, "design is the real king," NOT content when it comes to building REAL credibility amongst users.
Moral of the story:
Controversy attracts attention every time.
So, a controversial view with a factual basis will ALWAYS be an active ingredient for viral trends.
And eventually, a potential factor to cash out big time!
Readers tend to share posts that make them look good.
And Derek's post brought that feeling to life.
Sharing such posts will, no doubt, make you feel like you're a part of a thought leadership movement.
In other words, readers love to share a post that makes them look like they have got a more in-depth insight into certain things. It's even better if you make them feel like the competitors missed the boat.
In such cases, most people would likely pin your post to their social calendars.
Third—The Post enabled Slipstream Promotion.
In a Motorcycle race, competitors ride beside or behind those leading them. All this happens in a space called a slipstream.
So, it's within the slipstream that competitors get the BEST advantage and gain the most momentum to overtake the one leading.
Likewise, Derek handled his outreach strategically.
He looked for writers that had published blog posts on "content is king" and emailed them. In the mail, he told them how he found information that disagreed with their point.
Did it work?
Of course. However, you shouldn't expect all positive responses. So, prepare for the best and expect the worse when it comes to these things.
Viral Post 2 – Marriage Isn't for You – by Seth Adam Smith
Seth created a record-breaking blog post when he produced his "Marriage Isn't for You."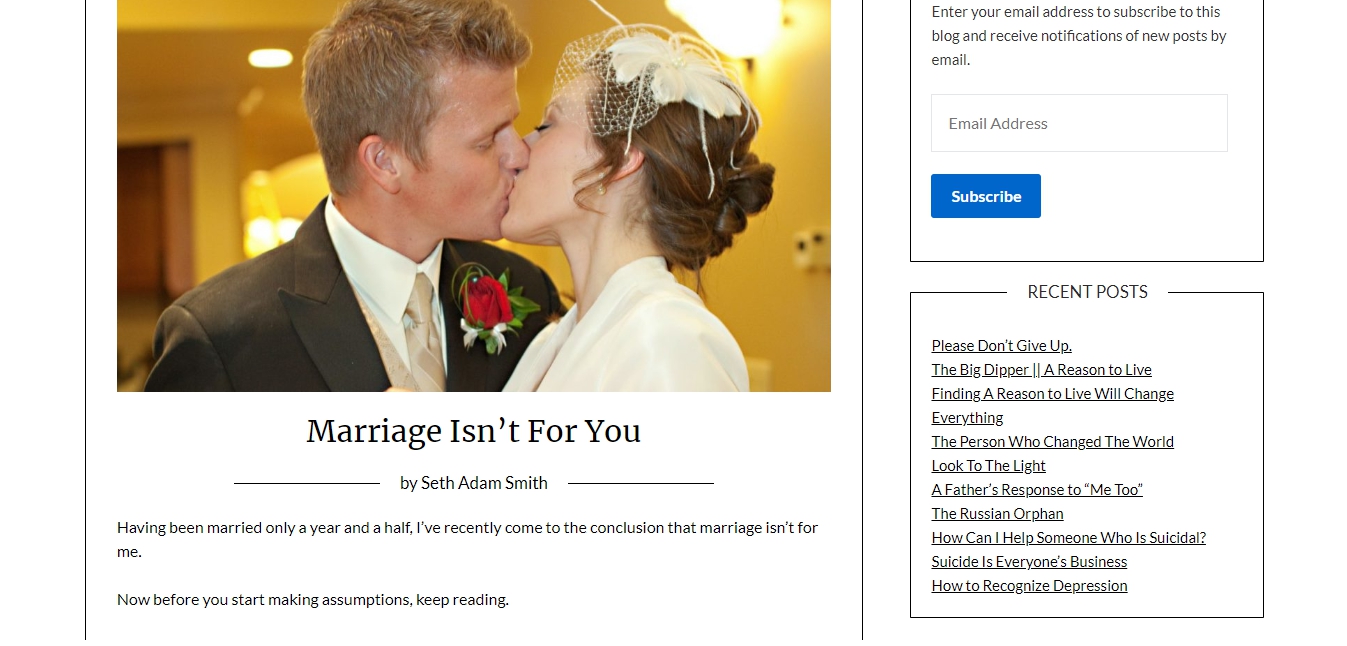 The post got featured on online media outfits like Cosmopolitan, BuzzFeed, The Huffington Post, KSL News, Today.com, Fox & Friends, MailOnline, and many other prominent media houses.
As if that wasn't enough:
On Facebook, it received more than 1.8 million shares.
After the post, the author, Seth Adam Smith, made numerous appearances on national television. He even went ahead to release a book as a result of its popularity.
If you haven't read the post before, it just means you're one of the few humans that haven't seen it.
The post was talking about how society has set marriage backward. And if people were a bit selfless, they would have better marriages.
This blog post resonated with a lot of people on different levels because:
It Aroused Curiosity via Surprise
First off, the title of the post was quite catchy. Asides from that, it initiates different levels of curiosity.
You'd want to know what Seth was really talking about.
Questions would pop into your mind;
"Is Seth a Shameless Clickbait?"
"Or is he scared to commit to marriage?"
But whatever your grievances are about this guy, you'd be spurred to click the headline straightaway.
Why?
It triggered a reaction that got you thinking. Hence, you wanted to satisfy your curiosity.
This point is a big winner when it comes to going very viral with your blog post.
The psychology of social sharing is straightforward—if the content makes readers feel good, they will share it.
For this post, the provocative headline—which is "marriage isn't about you," makes the readers feel selfless.
And this fact is a strong stimulator for social sharing. The sharer would be making a positive and clear statement with the post.
Another thing to point out is;
Sharing the post will be telling people you aren't selfish. Also, it's another way to give people the gift of happiness. And taking such action makes you look generous.
The most important thing is that sharers believe the post would make them look good. Hence, they share it.
Viral Post 3 – How to Crack a WiFi Network's WEP Password Using BackTrack – by Gina Trapani
Gina Trapani's article is the most viral post ever published on Lifehacker.com—with the largest number of shares.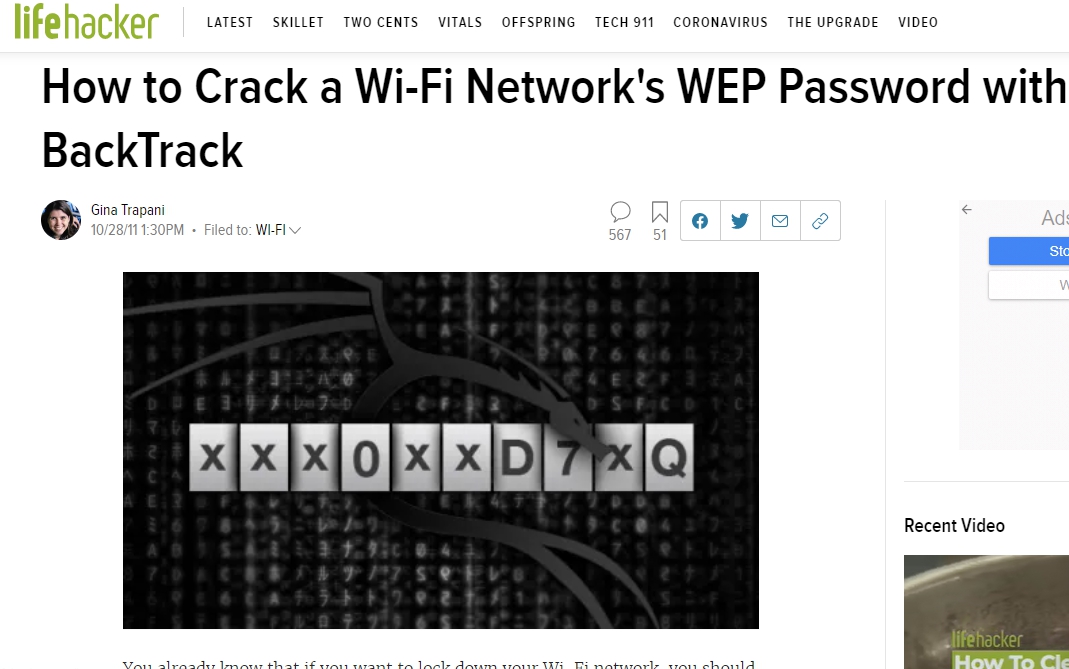 Yes, it didn't create a crazy buzz as the "Marriage isn't for you" post, but it went viral for two major reasons.
It Tempted Readers Into the Gloomy Waters
Cracking someone's password isn't legitimate in any ramifications. And most people are a bit curious about dubious activities.
So, reading this post will give readers that sense of being bad—like cyber-bandits going against the borders of society.
Psychologically, that feeling alone could be exciting.
Even if you're not interested in free WiFi, it feels cool to know how cracking a network works. After all, you might need the knowledge at some time.
An excellent feature of a viral post is one that makes your readers feel a bit rebellious.
Most people like to share insider tricks like this, especially if they get away with something that society frowns upon.
When readers share such posts, they take a moral high ground by suggesting, "I would NOT do this, but in case you ever choose to do it, here's the info you need." In the end, they still share the post.
The truth:
Most people believe it's thrilling to hear a secret first. And it gets better when they share such info with friends and family.
The Post Solves an Interesting Challenge
It feels exciting to be able to solve a problem before anyone else. In this case, we see a ton of people that want to crack WiFi passwords. So, getting this post is a great start.
You can also see it from this perspective;
The post helped to share a BIG secret on a public website with a large audience, in this case, Lifehacker.com.
Here's the deal:
If your post can solve a challenge that readers in an authority blog are desperate to solve, or weren't sure of a possible solution, you'll stand a BIG chance.
Of course. It's a great edge if you plan on guest blogging for a big authority blog.
So, here are a few questions to ask when you're on the path to solving a big consumer challenge.
What unique problem can you solve that NO ONE has addressed yet?
How do you make the readers believe they have got ONLY a tip of what you plan to talk about?
For guest bloggers. Which blogs already have the kind of people that are most likely to buy your idea?
Viral Post 4 – Here Is a Quick Way to Gain More Likes on Facebook – by Scott Ayres
Scott from PostPlanner blog did a great job with this post. It's definitely no stoop. Hence, it's not surprising that it reached 3K Social shares within a short time.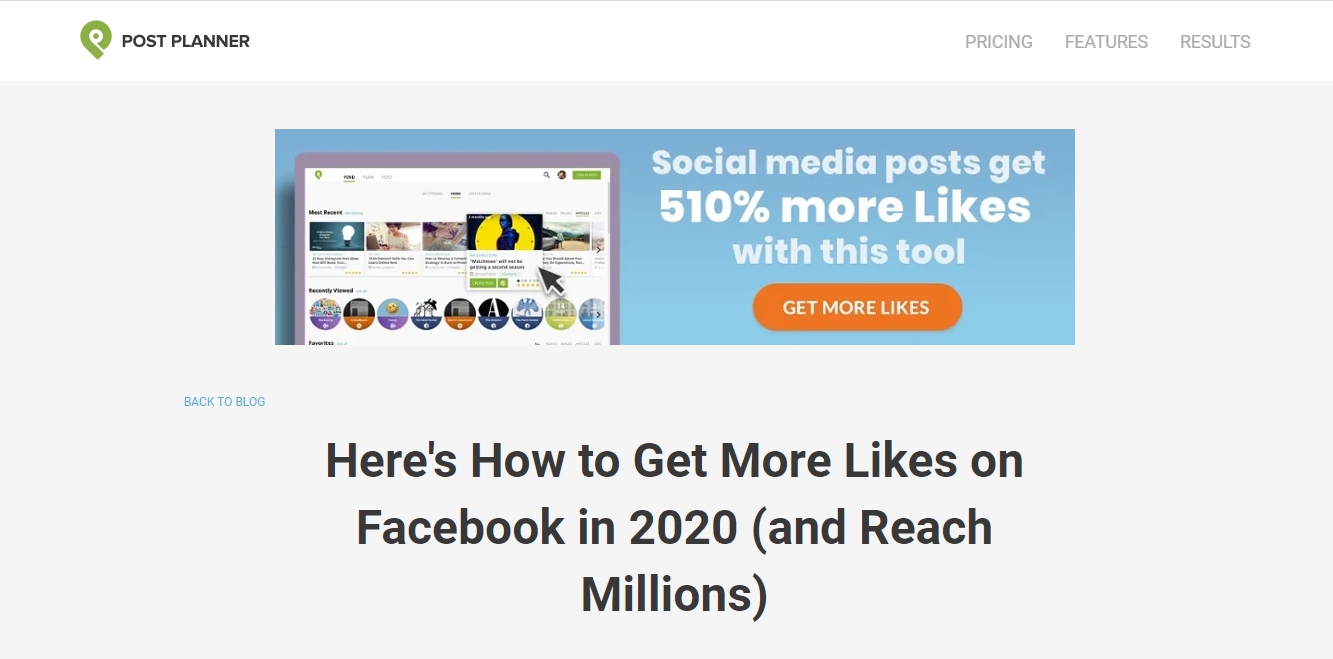 Scott may not have used the long-tail SEO technique for this post—like "How to gain more likes on Facebook." But the post gained a lot of success.
So, what are the secret ingredients that made his post a success?
It Leveraged the Power of Pictorial Content
I earlier listed this point as one of the ways to create viral content.
People love GOOD visuals. And it's the perfect antidote for long blocks of text.
Hence, posts with tons of visuals tend to get shares like CRAZY!
Merging an interesting and attractive-looking infographic with a problem-solving post will ALWAYS make the difference.
And Scott was no slouch when it came to that for this post.
Moreover…
Ayres fed on the yearnings of the content-hungry social media audience that would have died to get more attention on their Facebook page.
So, the combination of great infographics and mass appeal worked in favor of PostPlanner.
The Promise of Quick Result
Let's face it.
Wasting time isn't something you like to do. You want to go back to watching your favorite Netflix series.
Thus, the word "Quick" was the selling point in this post.
The mere fact that the post assures readers of achieving a significant feat in a short time is enough reason to get them hooked.
But that's not all.
The blend of "more Facebook Likes" and "quick" is the perfect winning combination.
The Ball Is in Your Court
I know going viral may seem like a far-fetched dream now.
But if you quit dreaming and start doing something, you stand a chance to GO viral.
So, for every post you write:
Consider your mode of distribution.
Apply the seven strategies
Take a cue from the few case studies listed in this post
And you're on the road to virality.
P.S:
I'm looking forward to hearing from you!
Which of the strategies or case studies caught your attention the most? Are there other strategies you'd like to share?
Drop your questions and suggestions in the comment section.